Are you trying to figure out next steps after junior sailing? We recently caught up with George Lee Rush and Seb Menzies, (29er European Championship winners 2022, and NZ National Champions 2021 / 2022) to ask them about sailing the 29er.
WARNING, there's a bit in this for parents to consider as well….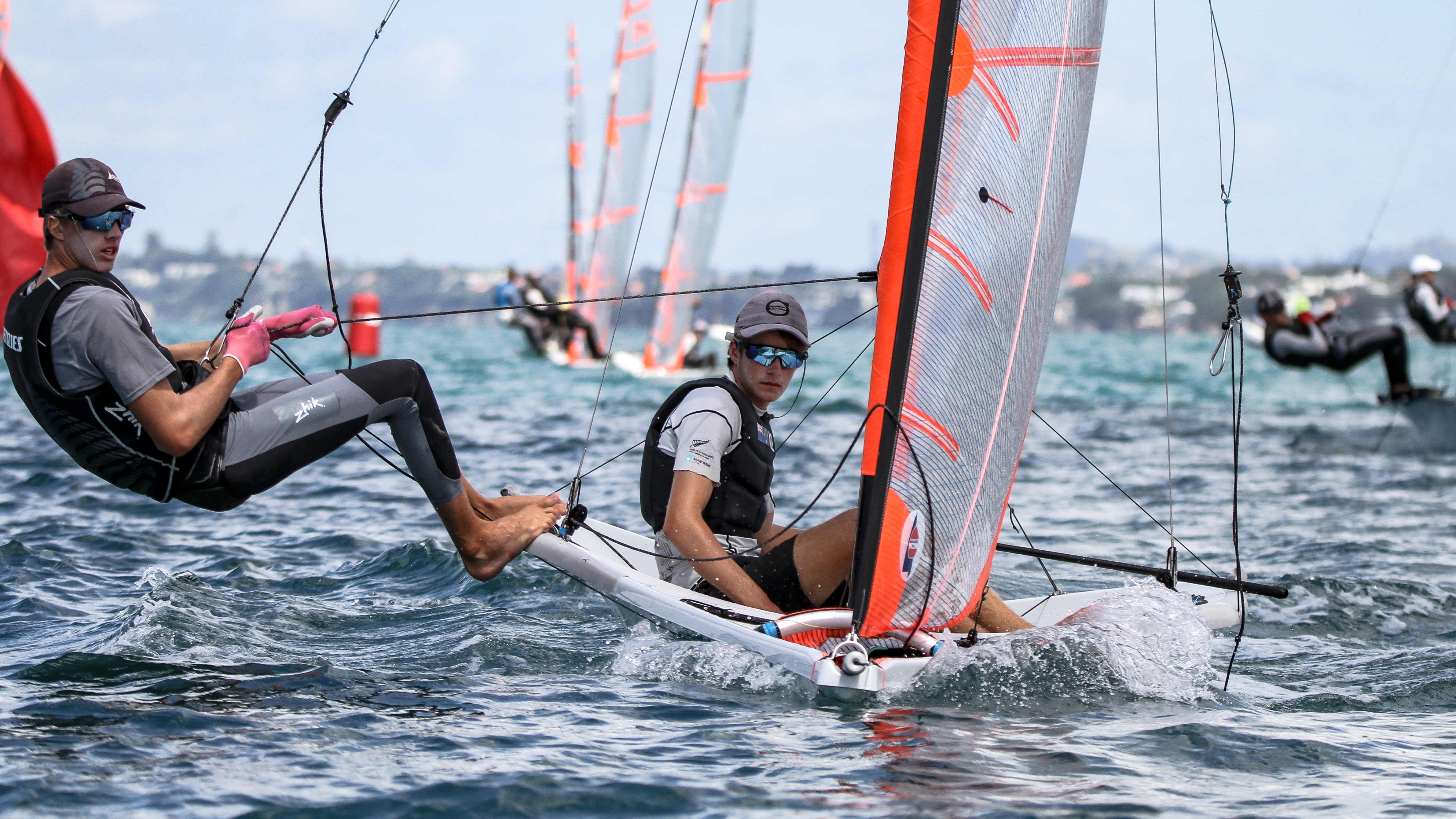 Sailing their Mackay built 29er
What made you decide to sail a 29er?
Mainly the fun aspects of sailing a skiff and apparent wind sailing. Apparent wind skiff sailing is very different to sailing displacement dinghies, with a lot more passing lanes and opportunities especially downwind, so the racing is a lot of fun and multiple lead changes are often possible. It is a very difficult Class to dominate as a result, so the racing is always exciting and a lot of fun. You also need to learn to be pretty robust, as you can be doing very well in a race only for changes in conditions to have a much more magnified effect on the race outcome than you will get in slower fleet racing.
How long have you been sailing a 29er for?
Seb – on and off for 3 seasons or so. George - since 2019/2020 season. Of course Covid dramatically affected much of that time, with no overseas opportunities in particular until this year.
What are the main aspects you like most about sailing the 29er?
As per question 1. Also the boat is straightforward to rig and set up and is very reliable. The class is strict one design including all foils and sails, so no real risks of arms-races on spending on gear. Even older boats that have been well looked after can be pretty competitive so it is a very level playing field on the gear front, leaving it up to the sailors to compete mainly on sailing ability. It is generally a much more relaxed class than some others! Both parents and sailors tend to be a bit more chilled, and the class is probably more sailor-driven than some of the other youth classes, especially with some of the older crews involved. There is a huge 29er scene in Europe in particular with a very high level of competition, so that is also great if you are able to tap into that.
What were the most challenging aspects to learning how to sail a 29er?
Initially mainly the stability of the boat – it has a very narrow waterline and relies on dynamic movement, trim and careful weight placement to keep it upright. Also gybing in strong winds is a challenge to learn (and is a an ongoing challenge even for experienced crews). Downwind in big waves can also be exciting, with a need to steer aggressively around waves to avoid going over the handle-bars. Sailors coming from a displacement boat background also need to learn a very different style of sailing from a tactics/strategy point of view.
What are the most challenging aspects of sailing the 29er now?
At the highest level, getting off the start line reliably in good shape is critical especially in light breezes and always a challenge in strong overseas fleets in particular. Moding the boat is also very important, and significant gains can be made with learning to do this effectively particularly with downwind sailing in puffy/shifty conditions. Keeping the boat upright in strong breezes and big seas downwind (and in gybes) is a continuing challenge no matter how experienced you are. As you get to the higher levels, the little things start to count more, such as transitions through gybes and the subtleties of trimming, trapping and moving around the boat.
Do you have any tips for 29er sailors starting out?
Lots (too many to list, so best for sailors starting out to come and have a chat). Find an experienced sailor and have a long chat with them to start with (and really listen to what they have to say). Some other tips:
New helms should ideally try to find an experienced crew to start out with. It is much more of a challenge to learn to sail a 29er if you are both new to the boat. You will spend much more time swimming than is ideal! Experienced Opti/Starling sailors will adapt to the boat quickly, but to do this effectively you need a good crew. Finding good, experienced crew at the right weight for small new sailors can be quite a bit challenge in the class at times.
Ideal weight range is approx. 120 – 130kg, with a much smaller helm and larger crew the ideal setup. Some crews sail as light as 110kg (and overseas there are quite a few crews even under this, which is fine in light European conditions but more of a challenge in typical NZ conditions). Anything under 115kgs and you will struggle in 12 knots plus. The boat is actually quite weight-tolerant and if you are experienced and know how to sail it well in light breezes you can still be very competitive over 130kgs. We have not weighed ourselves for a while now but would be close to 140kgs.
Focus on pairing up with someone you think you will really enjoy sailing with. A harmonious crew relationship is absolutely critical to performing well, and will be more important in the long run than focussing solely on finding that "gun" crew member who you may or may not be compatible with. You can develop together. You spend a lot of time together and personality issues can have a major detrimental effect on performance.
Get out in the full range of conditions and just put the hours into sailing as much as you can. There is just no short-cut here. Do heaps and heaps of manoeuvres. Race every opportunity you get. There is absolutely no substitute for hours in the boat. Don't get bound up in spending heaps of time and money on coaching. You can work out a lot by yourselves, especially sailing as much as possible with other good/experienced boats.
When looking for a boat, be a little wary of the cheap battler – some of these can be pretty heavy and you will spend far too much time off the water with broken/unreliable gear (and end up spending a fortune replacing it). It is worth paying for a good newer boat and you will get your money back in spades when you sell. Pay particular attention to foils, masts and sails in particular when buying a secondhand boat. A boat with a near-new set of sails or two sets of sails is potentially worth quite a lot more than a good boat with worn-out sails (sails are quite expensive). Jibs in particular don't last that long.
Do you have any tips for parents of 29er sailors starting out?
Crewed boat sailing brings a whole range of new challenges for those coming from solo boats. For a pairing to be successful you need:
Crew compatibility on the personality front;
Some measure of crew compatibility on the ability front (respect for each other's sailing ability is really key as lack of this quickly causes cracks in the relationship);
Crew compatibility in terms of ambition – how hard do you want to go, what racing programme do you want to adopt, how many hours are you prepared to put in, where does sailing/racing sit in terms of priorities in your life?
Parent compatibility – this is almost as important as crew compatibility and extends to the same things e.g. how much money are you prepared to spend (!), how much time do you want to put in, how much do overseas plans feature in the mix, are your parenting styles compatible etc. Both parents and crews will potentially spend a LOT of time together and you need to get on well, enjoy each other's company and have fun, otherwise it won't last. Uneven contributions, money issues and parents going off the rails can sink any campaign pretty quickly! Above all, remember it is a sport and meant to be fun/enjoyable, and if that goes the wheels will fall off quickly.
Another major consideration is that the whole youth sailing scene is characterised by constant change: the sailors are at a stage of their lives where they are growing and changing significantly every year (physically and mentally), and their plans and ambitions can also change quickly. It is a real challenge in a crewed boat matching up sailors of the right size (plus all the other characteristics mentioned above) while sailors are growing and changing so quickly.
There is also the youth age limit to consider. No sooner will you have the magic pairing at the right weight, than they will get too big for the boat (or too old) and you will have to change! Most 29er sailors will sail with at leas 2 or 3 combination during their 29er career, and this is just a fact of life. The whole scene is one of constant change and it is necessary to be flexible, take good advice and be open with each other. With so many pairing changes being just part of the scene it is also a challenge to maintain parent relationships when crews break up/pair up. Honesty, openness and behaving decently are key here, and you need to keep your big boy/girl pants on at all times!
This is also a stage of sailing where you need to learn to start to pull back as a parent. Youth sailors are not so keen on the parents hanging around getting in the way (it interference with their important social interactions in the boat park). So, it is necessary to make some changes to the way you support your sailors and move from the foreground to the background (a challenge for some parents!!).
Thanks Seb and George.